News & Updates
Moments Of Truth
January 8, 2012
Print version
SAVE THE DATE! : Tuesday February 7th, 2012
BSC returns with "Moments Of Truth: Healing Ourselves From The Inside Out"
(A 2012 National Black HIV/AIDS Awareness Day Performance)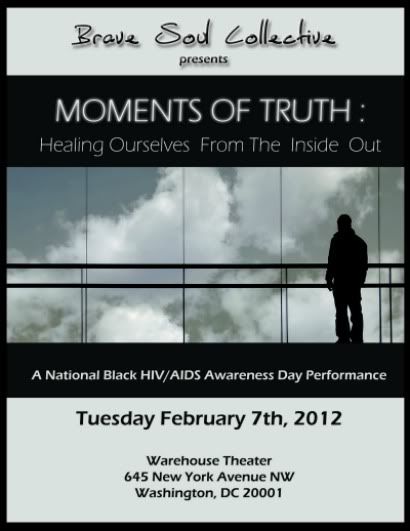 What: Moments Of Truth: Healing Ourselves From The Inside Out
(A 2012 National Black HIV/AIDS Awareness Day Performance)

When: Tuesday February 7th, 2012
Where: Warehouse Theater, 645 New York Ave NW, Washington DC 20001
Time: 8pm
Cost: $15
To purchase tickets in advance, please visit: BUY TICKETS
Sponsored by Bethel Christian Church, The DC Center, Oliver Aromatics, & presented in part by BET Rap-It-Up Campaign & Us Helping Us, People Into Living.
On Tuesday, February 7th 2012, Brave Soul Collective (BSC) presents "Moments Of Truth: Healing Ourselves from the Inside Out" in observance of National Black HIV/AIDS Awareness Day (NBHAAD).

Through theatre, spoken word, and personal testimonials, BSC will not only entertain, but most importantly educate and enlighten attendees about the focal points of this year's NBHAAD campaign: education, testing, involvement, and treatment.
The evening of artistic performances serves as BSC's artistic contribution to the continued fight against HIV/AIDS. It is presented to help mobilize the African American community around HIV/AIDS education & awareness; reduce stigma and infection rates; and to reinforce the importance of assuming personal responsibility for individual choices that affect collective mental health and wellness.
"Moments Of Truth" features all new original works by BSC founder Monte J. Wolfe and members Alan Sharpe, Jared Shamberger, Thembi Duncan and Cornelius Jones, Jr. The performance kicks off 2012 with a return to Warehouse Theater, site of BSC's 2011 DC Black Theater Festival production of "Smoke Screens" -- a highlight of BSC's five year anniversary last year.