Artistry: Artist Feature
Brave Soul Artist: Rodney Lofton
February 11, 2008
Print version
Other articles by this author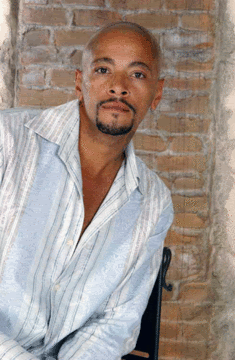 Our Brave Soul Artist for February is a man whose travels both personally and professionally have led him literally back to himself. Rodney Lofton is a writer, HIV/AIDS activist, and author whose journey has been detailed in his memoir entitled, The Day I Stopped Being Pretty.

Lofton was born in Seaboard, North Carolina and raised in Richmond, Virginia.
Throughout his high school years, he auditioned and landed roles in his high school productions of The Wizard of Oz, Don't Bother Me I Can't Cope, and a class project "Oh Freedom," in which he played the tragic mulatto son of a slave and slave master. During this time, he discovered he was different from the other guys in the neighborhood...he realized he was gay.
As he matured, he sought affection in the arms of many, searching for that one defining love that eluded him. His search began when he realized that the love of his father was not reciprocated. His journey for love and attention took him to New York City, where his childhood dream came true. He began working as a publicist for a public relations firm, where he represented the likes of Kool and the Gang, Mary Wilson of the legendary girl group The Supremes and a host of others. He continued to make a name for himself, as a freelance writer for the national teen publication, SPICE Magazine, providing reviews and feature articles on the top R&B/Hip-Hop performers in the music industry. His voice also provided a "biting" commentary of gossip in the music trade publication, Music Biz. While fulfilling this dream of being in the entertainment industry, Lofton was dealt a tragic blow that could have easily ended his career aspirations. He was diagnosed with HIV.

He retreated to the safe haven of home, Richmond, Virginia, to regroup and redefine himself. For two years, Lofton continued to freelance as he prepared for what he assumed was the end. A chance meeting with the Editor of The Malebox, an African-American gay publication, allowed him to broaden his readership to include an African- American gay following. His articles addressed topics in Black Gay culture on dating issues, HIV/AIDS and his most popular feature, insight into the mind of a male escort.
He decided during this time to focus his energies on writing his one great work of art, a play entitled, The Last Supper, which premiered as a workshop at the University of Kentucky. The play addressed indirectly, Lofton's fears associated with living with HIV and the hope of reconciling with his father.

When he beat the odds, he decided to redirect his energy by working in the HIV/AIDS community. His voice has been heard by countless young people around the country and even internationally. He has served as Keynote Speaker and Facilitator by the New Jersey World AIDS Day Celebration, the Ryan White National Youth Conference, The United States Conference on AIDS and countless others. His commitment to youth HIV prevention led him to work in the Saratov-Oblast region of Russia, assisting agencies with high rates of HIV infection among young people.
In the summer of 2005, Lofton decided to step away from HIV/AIDS work to focus on himself and his healing. Out of this period of reflection, came his "baby," his true and gritty retelling of where he has been, how he got there and the end result of his actions. The Day I Stopped Being Pretty is Lofton's memoir, presented in its most gritty and heart wrenching telling.
Rodney's story is one that was touching to me personally, as I recently finished reading his book. Shortly before I got to the end, I was compelled to reach out to him via myspace about his story and about how much I appreciated his honesty. This led to a subsequent conversation we had about living life as black gay men, living with HIV, and about life in general.
Rodney happily accepted our invitation to be a Brave Soul Artist and I for one am glad that he did, because I truly feel that the kind of 'truth telling' he exhibits in his first literary work personifies what it is that us 'Brave Souls' are made of---putting yourself and your life on the line for the sake of healing, growing, loving & LIVING.
I am happy to introduce to all the Brave Soul family, Mr. Rodney Lofton...
"I knew in my heart of hearts that if I did not address the issues that brought me to the darkest place in my life, I would be destined to repeat those same behaviors. I walked away from the book at times as I purged my demons, but in the end I felt a heavy load lifted from my heart"
In your bio, it states that you had a dream at an early age of becoming an actor. Can you talk to us about that initial 'spark' and the time in which you felt you knew what you wanted to do with your life as it relates to the arts?


I have an aunt who opened my eyes and heart to the arts. I remember so vividly, like it was yesterday, going to the movies with my Aunt Jettie and watching these great actors on screen. Back then, you could watch a movie over and over and never have to pay admission again. So, there I sat in the movie theater with my snacks, getting lost in these wonderful stories that did not reflect my own existence at the time. When I didn't go to the movies, my aunt and I would sit there every Sunday and watch the great black and white films. I fell in love with the likes of Imitation of Life, Whatever Happened to Baby Jane and many others. From that moment, I knew I wanted to be part of a community that would allow you to become anything and anybody even if it was for just a very short time.

For those who may be unfamiliar with you and your work, please explain the title of/motivation behind your memoir, "The Day I Stopped Being Pretty"


The title The Day I Stopped Being Pretty came out of something that my father said to me while growing up. At the time, I was always called "pretty," so when my father heard a woman call me "pretty" he informed me that men were not pretty, men were handsome. So, that statement gave birth to the title of the book.
Your relationship with your father is a pivotal part of your story. What has been the most important thing you've gained from your experience as it pertains to this particular relationship?
I realized after my father's passing, he loved me the best way he knew how. I have learned as a result of the relationship, I sought his approval and validation for the man that I am today. One thing I have learned is that I don't need validation. I am very happy with the man that I see in the mirrors these days, and each day is a joy in getting to know him.

How important was is it for you to utilize the element of TRUTH in your work as an artist?


It was very important. One thing I wanted to convey to the reader, or to have come across was the graphic nature in which certains things happened. I wanted the reader to feel as though they were standing beside me in each moment of the book. Although graphic at times, I wanted the reader to feel the intensity of every moment of the book, be it good, bad or indifferent.

How much of a challenge was there for you in reflecting on all that has happened in your life in order to complete "The Day I Stopped Being Pretty"?


It was trying at times, but for me it was probably the best thing I have ever done. I knew in my heart of hearts that if I did not address the issues that brought me to the darkest place in my life, I would be destined to repeat those same behaviors. I walked away from the book at times as I purged my demons, but in the end I felt a heavy load lifted from my heart.

Its safe to say that you've had your share of ups and downs in terms of relationships. If you could identify one key element that you feel is paramount in order for relationships to 'work' and last between black gay men, what would it be and why?


Well your assessment of my relationships is on point:) I can't really limit the answer to one key element in order for black gay relationships to work. I do believe honesty is definitely key; along with an open line of communication and definitely trust. If a relationship can embrace and sustain those three key elements, everything else can and will fall in place.

Our Brave Soul Discussion Topic for the month of February is Racism. As it pertains to your story, your life and your past, how much of a part has racism played in your life?


As a black gay man, I have experienced racism from both sides (the white gay community, as well as the black gay community). For some white gay men, I am a fantasy for them, the idea of being with a black man sexually, but non-threatening. I am definitely not the "MANDINGO" type brother, but it allows white gay men to feel comfortable laying on their backs for me. With black gay men, I get the comments, "You are too light for me." So I think, at the end of the day are not men of color. So it can be a bitch at times, but that is life.

What initally sparked your decision to become an activist and spokesperson for HIV/AIDS awareness and outreach work?


I was blessed in a sense to have a great support system in my life when I was diagnosed with my family. When my friends started to die, I realized they died in silence, without being able to share and convey to others what it was like for them. My mother was very instrumental in helping me overcome "the shame." So by becoming an activist and a person commited to HIV awareness, I wanted to show the "Positive Side of Being Positive."

What kinds of advancements can you identify that exist in terms of HIV/AIDS related work, research and developments since 1993 when you initially tested positive?


Well, when I tested positive in 1993, there was very little along the lines of medications for those living with HIV. At that time, AZT was pretty much the only thing available. Now, there are a number of medications that are being used to suppress the virus, however there still is no cure for HIV disease. During the Clinton Administration, there was this discussion about finding a vaccine, but unfortunately as you know, that is still a fleeting dream.

What words of encouragement can you offer to someone who may afraid to go out and get tested?


I think EVERYONE should know their status. It is a very difficult pill to swallow, but just know that HIV is not a death sentence.

As a person who has been living with HIV for the last fifteen years, what advice can you give to others who may be newly diagnosed as HIV positive?


Well, the first thing is to realize that HIV is not a death sentence. It is important to learn everything about this "invader." Become a well informed patient and take an active role in your own health care. Find a good doctor, preferably someone who specializes in HIV disease. There are so many things to take into consideration. Eating healthier, exercising, lowering the stress in your life. I know it is definitely a life changing disease, but it is not a death sentence.
You speak at length in your book about how for many years you continued to do outreach work and help others while you personally continued to struggle and exhibit self destructive behavior. Can you speak briefly on the importance of "only being able to teach that which you need to yourself learn"?
Well, I resolved within my heart and on my own personal journey what works best for me. I think we learn what we need to and incorporate that into our day to day lives. I learned what I needed to make me feel good about me and the decisions I would feel comfortable with.
Did you find it easy or was it painful to relive and review all that transpired?


At times it was very difficult and painful but it was well worth it.

What would you, Rodney-The Man, say to Rodney, the child who longed so dearly for the love of his father?


Wow, that is a very difficult question. I would tell Rodney the Child, to embrace the love that is offered to him by those around him. The love of his father is there, although not very visible at times but it is there.

In terms of your next literary work, what direction do you envision yourself going in, since your first novel was such a personal and heavy work of art?


My next work is something just as personal, but not as heavy. No More Tomorrows: Two Lives, Two Stories, One Love, focuses on the relationship of two black gay men, one living with HIV, the other negative. The story follows their journey of meeting and loving in the face of HIV disease. At the same time, I am working on a follow-up to The Day I Stopped Being Pretty, entitled ...So Does That Make Me a Ho? - a comedic look at the sex life of a black gay man, pre and post HIV diagnosis. It addresses some of the funny issues that we as black gay men encounter in our friendships and relationships. This time I plan on COMING with the funny:)

You've performed as an actor/singer, worked extensively in public relations, as well as done your share of writing as a journalist and author. Is there one specific aspect of the arts you enjoy most?


I am still getting use to being called an author:) But writing brings much joy to me. It allows me to for a moment, like when I was a child, to get lost in a story of great characters and a great storyline, but this time I am the one directing the thoughts and coloring the dialogue with my thoughts:)
For more on Rodney Lofton, you can find him on myspace by clicking here:
Rodney Lofton on Myspace , as well as his website, Rodney Lofton Official Website,
and The Day I Stopped Being Pretty is in stores now.