Artistry: Artist Feature
Brave Soul Artist: Zo!
September 15, 2010
Print version
Other articles by this author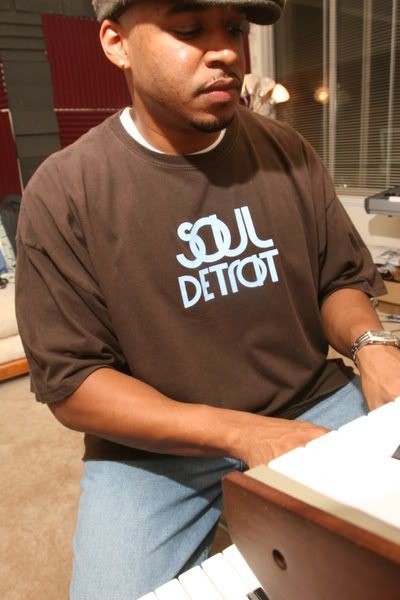 Our Brave Soul Artist feature for this month is a self proclaimed "Musical Architect" and a true definition of an artist. Multi-Instrumentalist/Producer Zo! is Detroit-area born and raised Lorenzo Ferguson. Music was always present in and around the Ferguson house, which let to Zo! taking piano lessons at age 6... which he absolutely despised. The idea of working toward a Major League Baseball career served as the greatest inspiration through his teenage years much more so than the concept of practicing music. After his parents consistently pushed and encouraged him to stick with music, Zo! discovered a newfound passion by teaching himself how to play piano by ear by age 11. Zo! got his production start in 1992 when his parents brought home a Proteus MPS keyboard and a Brother PDC100 sequencer for him to figure out. Since then, he has emphasized the use of live instrumentation as the blueprint for his music while constantly looking to expand his sound with each album release. His discography consist of countless albums and projects all of which demonstrate just how much music he's crafted over the past 10 years, including:
Zo! Presents...Ablyss (2001)
Zo! Presents his...Actual Fiction (2002)
Zo! Presents...Today's Ascension (2002)
Zo! Presents...A Canvas for the Adoration of Music (2002)
Zo! Presents...Elevation Music (2003)
Zo! Presents...Passion & Definition (2004)
Re:Definition (2005)
...just visiting EP (2006)
Freelance (2006)
Zo! & Tigallo Love the 80's (2008)
Overdue Process (Zo! & Asylum 7) (2009)
...just visiting too EP (2009)
SunStorm (2010)
Last month, I had the opportunity to sit down with brotha Zo! & speak with him about his feelings regarding a myriad of topics ranging from his love & passion for music to other pertinent topics such as his work as an educator & the importance of social networking in 2010. If you haven't heard of this man or his music, DO YOURSELF A FAVOR & get on board. To anyone with a true love & appreciation for musicianship, prepare to be mesmerized.
In an effort to spread the word about his most recent masterpiece "Sunstorm" (on the Foreign Exchange Music imprint) I am honored to present to you a talented man who is producing work that can easily be classified as top notch, timeless music for the masses. Read on and take a glimpse into the mind & heart of Zo!
Enjoy...
"I would say that music is emotional--period. Music sparks emotion. It's the same with creating music. A lot of times it's not anything that I map out...Being that it comes to me like that, I always credit the higher power because I'm not coming up with that stuff. That's a credit to God."

For those that may be unfamiliar with your work, how & when did your journey into the world of music begin?

I guess it initially began when I was about 5 or 6 when I started taking piano lessons. But even at that age I was a kid so it wasn't anything that I was in love with. At that point you're still trying to be active, out playing with your friends and that kind of stuff so it wasn't really anything that I enjoyed. Fast forward through high school and through college because through then, it was all baseball. From like age 9 until I graduated college, which was when I was 22. What I kind of call it is a transfer of passions to where it went from all baseball to music. Because I had so much energy, it was like I gotta be able to put this energy somewhere. Once baseball ended, that frees up your entire day pretty much because you don't have to go to practice all day, and you don't have to be on the road and play games, so you take all that energy and put it into music and pretty much that's when it really started for me, so it was probably around 2000-2001.

How did your work with The Foreign Exchange begin? What has your experience been working with them as artists & as a record label?

That began with me meeting Phonte back in 05. I met him after a Little Brother show. I actually made it a point to approach him after the show because at the time I had an album called "Re:Definition" and it had two Little Brother remixes on it and I had heard that he'd heard them. I was like "ok...let me just holla at him real quick". I didn't really know what I was gonna say, but I figured at least I'd introduce myself and he could see my face. Come to find out, with that meeting, he was like "I already know who you are...I got one of your albums on my ipod" and I was like wow...so just starting in, I see that there's already a mutual respect thing...musically. From there we just exchanged information and just kept building as far as creating music. He appeared on the first "...just visiting" album, singin the hook for "Steppin Out" which we later updated for the [Zo! & Tigallo Love]the 80's joint. I think soon after that I moved out here which was in '06. Then we worked on "When Everything Is New" for Little Brother's album. So it just kept goin...I started sending more stuff to him, he started sending more stuff to me and then we just kept moving with that. I knew that they were working on the "Leave It All Behind" album. They asked me to do the Stevie remake "If She Breaks Your Heart" and when we would talk he would be like ..."When we put this album out and when we start to go on the road, I want you to be a part of that...and I dunno how I'ma freak it yet, but I know I want you to be a part of the live show". He kept his word and once they got on the road, they called me and we pretty much took it from there.
Working with them as artists, what I see it as is being that I have an athletic background, I've always been competitive so being around a lot of different creative minds and those that hold high standards to their output is something that I take as something that I can step my own game up with. It's definitely a way to motivate myself because working around Phonte, & Nic, & Yahzarah, & D. Brock, it's like you can't just give them some leftover shit. You gotta make sure that you give them some grade A, some top quality stuff. It's cool because even if it's not something for them, I'll still send it to Phonte and be like..."what you think about this?" just to get a second opinion...because I trust his opinion. It's definitely a family atmosphere. It's definitely something where I feel like everyone's looking out for each other.
Can you talk briefly about the concept behind the "Sunstorm" album & what the process of creating the album was like for you?
"Sunstorm" when you take it from the title, it's basically an autobiographical type of piece. I told you that it's been roughly about ten years since music has been something that I've taken seriously. It's funny because Phonte & I sometimes joke about the fact that it's always a ten year curve until something actually starts to pop for you. So with "Sunstorm", of course the sun being the up and the storms being the down it kind of describes not only my life, but the musical journey and I knew that with doing "...Just Visiting Too" and getting more people behind me in that and being affiliated with the Foreign Exchange imprint that I was going to have more ears on my music so to me it was kind of important to take them to "Sunstorm" via my other projects. Just to let people know that "Sunstorm" is not the first album, by far. There's plenty of other works, there have been plenty of other struggles---with this one being the first of many to be available to more people and a broader audience.
I guess the concept behind creating it, to put it simply is that I would make the music; I would pass it on to Phonte. We'd get on the phone and we talk about "Ok who do you hear on this one?...ok...well kool I'm gon write something and we'll have so and so sing it...or we'll just send it off and let them write it and they'll sing it." If you would have told me that I would have eleven guest spots on this album starting off, I would have been like"that joint's gonna take me about five years to do, but we tried to keep the collaborations number 1.- within the family and number 2. - within those who we knew who are just as passionate with what they do as we are and also those who are personal favorites. It all just came together. When you got people like Yahzarah & D. Brock who ARE family, and you add on the likes of Sy Smith, and Lady Alma and Monica Blaire--who is my homegirl from Detroit you know, you almost can't go wrong. These are people who don't need direction. I sent a track to Lady Alma and I was like "Do ya thing"...and that's what happened. It's nothing that I need to go into the studio and supervise. They're turning this music around and the great thing about was that they put their all into it as if it were their own project(s). So that to me as a producer was probably the greatest compliment in making the album because you feel as though...as the creator of this music, you want to make sure that you elevate people's games and challenge them. It's nothing that I want to give to somebody and have it be some 'cookiecutter shit' to where it sounds like something off of their album. I want this to be sounding like "Sunstorm" with you on it"¦with you bringing it out. It's definitely a partnership there.

Who are some of your musical & artistic influences?

The first one that comes to mind is Quincy Jones. Basically, because this is a guy who was a trumpet player. You would never think that at 20-21 years old, later on down the line this dude is scoring movies. When you get into movie scores and things like that, that's a whole other can of worms as far as arrangements go, as far as musical direction and that type of thing. When people think of the title producer, they always set it on someone who makes beats and what I like about Quincy and a lot of actual producers back then is that these guys were just very musically inclined. They had a musical mind and they were visionaries. These cats were like mad scientists when it came down to it. It wasn't just sitting down and putting together a beat even though that's an art in itself of course. Not to take anything away from that. But at the same time, I want to be more than that. As a musician, I want to be a composer, a director of music and I want that to be able to shine through in what I put out.
Please share with us at least 5 artists/musicians that you would love to have the opportunity to work with (living or deceased), as well as why you'd want to work with them.

Quincy of course, even if that was just sitting on the side and just watching. Stevie--just because I'd want to be in there just to see his layering process as far as his music goes. His music is simple but it's busy. It's very full and I would want to sit there and take that in. Vocally I would love to work with Faith Evans. She is a favorite of mine. I think that we would work well together. Whether that gets to her or whatever, I think that it would be something dope. [J.]Dilla is another one who I would have loved to see just work. I would have loved to just sit on the side and watch and once he was finished...if he needed keys on this or bass on this, I would love fill in where I need to fill in--just to say I was on a Dilla joint. Leon Ware is another one who had a hand in producing my favorite Marvin album, "Want You". He's just another one who is just consistent. In the 70's to me it was like Stevie, Marvin, Leon Ware, Curtis, Donny, in the early 70's you got Isaac & Sly making their transition from the kind of psychedelic funk to even more smoothed out R&B. If I would have been this age then, I would have been half sponge....and half artist because if you're around that, you just have to humble yourself and play the side role for a second. I'll say one more...The Funk Brothers.
As a producer, how do your songs take form/shape? Where do the ideas come from for your music?

I would say that music is emotional---period. Music sparks emotion. It's the same with creating music. A lot of times it's not anything that I map out. A lot of things just come from sitting at the keys and kind of feeling something out...and I might be messing around and its like "Oh let me find a Part B to that". Being that it comes to me like that, I always credit the higher power because I'm not coming up with that stuff. That's a credit to God.

As someone who is an educator, how important do you feel it is for youth to have access to arts based programs within the education system?

Any resource that can be utilized outside of the school, is important because the kids that I work with are in the special ed population so anything that I can use outside of the classroom to help them to relate music to real life situations or even to making a living is important. I also tell people its also important as a musician in education because what it does is it helps you stay on top of your game because when you're in classrooms, these kids have a ton of questions. So if they come in with a question you better know what they talkin about & have something that can even turn into some type of teacher's moment to where you can kind of flip the question back on them. What it does is it earns you respect in the classroom and it keeps you on point. So I do a lot more reading in order to just be informed...especially in music. You gotta make sure you practice, because the first thing the kids are gonna say is "ok you teaching me how to play such and such...let me hear YOU play it". Then when you play it, if you sound great they may listen to you. It's a better chance of them catching on.
How do you navigate the waters of teaching and also being a full time producer/artist? Can you share with us some of the pros & cons of your life as both an educator & musician?
That's probably the toughest part. That's why my new favorite season is now the summer because I'm able to take my summers off and my time is valued as MY TIME. I'm able to run with it that way. Normally in those two months, I'm able to produce more music than in the remaining ten months of the year. It's very difficult not only time wise because if you work as an educator and you're a musician you have two jobs--period. When I get off at 3:30 and go home, I'm a musician. I mean I'm a musician all the time but that's when it officially transitions over to my time.

Our Brave Soul Collective discussion for the month of September is "Knowing Your Value & Worth". As someone who works with youth as well as being someone who has been involved in the music industry can you share with us your feelings/thoughts about the importance of this topic?

I think it's very important. It's especially important now because of everybody putting emphasis on the economic situation or lack thereof. It changes a lot of people's mindstates as far as what they're willing to spend. They're really not looking at you as being as valuable as you would look at yourself, even more so now. Its funny because when I sit with the students & we talk about the importance and the value of music---I always ask them can you imagine going a full day without hearing any music? You're watching TV...the commercials on and its just people talking. Whatever they're advertising is not gonna sell.
Even to those who want to be musicians or artists, this is exactly what we talk about. You go at your asking price and if they don't want it, then they don't have to have it. Somebody wants it and somebody will see the value in what you're doing. So what you do is you have to find these people. Don't let them look for you---go find them. It's very important because if I'm not teaching, this is what I'm gonna have to do all the time. Those of us with families and stuff like that, this is how folks are living. That issue is a great topic. It's something important. As independent musicians or artists, you're wearing like ten different hats and negotiator & handler of bullshit are two separate hats that you have to wear and that you have to master very well or else you're going to sink. No matter how much good music you put out. If your business hat has got a couple dents in it or if it's just unreliable in the sense that nobody wants to mess with you, then you're outta there.

What are your feelings about homophobia in the black community as well as in the music industry? What steps do you feel are necessary to begin to form gay/straight alliances among music lovers and those who appreciate great music & art?

I think it's the same thing that I was saying with the kids. A lot them...when they don't know about something, they talk down about it but once you get exposed to something, they're a little bit more receptive because its like now I understand that it doesn't bring harm to me...it's not that bad. I think it's a matter of exposure. I think that people speak out against what's not the norm, but once people get exposed to something or have been around someone it makes all the difference. A lot of these people have probably even had a conversation with someone who is homosexual but how would you know that? It's a fear factor that kind of needs to be bridged and the main bridge to that gap would be exposure to people, for sure.

What are your feelings about the importance of social networking sites (such as Twitter) when it comes to the promotion of your music, performances, and connection to your fans & other artists?

In this day and age, it's very important. It's almost expected. Sometimes people will actually get up in arms if they tweet you and you don't tweet them back. It's that serious. Definitely as far as the promotion, its funny because I'll see something on twitter that's damn near breaking news and I'll be like "oh word?" and then I'll go to cnn.com and it's not even there yet. Just for the sake of word of mouth...those social networking sites are golden. Of course with the good, you have the bad because if some bad shit gets out there, it's the same effect. It's definitely a give and take there. But in 2010, the social networking and promotion is very necessary. That's where people are at. That's where people converse and its very important to me to get in touch with people who are spending their money on your music. If somebody tweets me or includes my name in a tweet I try to reach back out to them and at least say "thank you"...or say something to say to them "I see you". It does make a difference. Even after coming off stage I make sure I come off stage into the crowd. Cause I wanna make sure that I shake hands and take pictures, and give hugs to as many people as I can who came out. They didn't have to come out to support. I see it more as a gift than as a curse. I hope I can continue to see it that way.
For more on Zo!, please visit:
Zo!-Musical Architect Blogspot
or
Zo! at Foreign Exchange Music