Artistry: Inspirations
Brave Soul Collective salutes the life & legacy of E. Lynn Harris.
July 23, 2010
Print version
Other articles by this author
A tribute to the beloved E. Lynn Harris
Just As He Was...
Monte J. Wolfe
1995 was a monumental year for me. At the onset of that year, I was a sophomore at Grambling State University. I was also pretty miserable. Even though I was enjoying the 'garden variety' experiences that came along with being in college & being away from home for the first time, I can flatly say now that I was NOT a happy camper. I was living on campus, studying theatre arts & spending the rest of my time in my room away from the rest of the student body. Living in the DEEP south away from civilization, with the nearest grocery store nearly five miles away, I was in a bit of culture shock. That was the least of my problems however, as I knew intuitively that something else was missing. Part of what contributed to my miserable disposition at the time was that I had absolutely no clue what the missing piece was or how to go about fixing it. During this period, just about every day I'd speak to my mother (in Wisconsin where I had just left) who insisted that I not only stick out the experience and give it a chance, but also STRONGLY encouraged me to pray to God on a daily basis. She assured me that no matter what was going on with me, that PRAYER was the answer. I should probably mention here that I was not raised in church growing up and didn't have one particular 'ideology' beat into my head at an early age---remember that because it's an integral component of this story that I'm sharing with you. So, at the insistence of my mother I prayed. My prayers weren't succint or specfic because again, I had no idea what it was that I was praying for or what it was that I wanted or needed...
One of the things I was clear about was that I wanted to transfer to a different university. I wasn't happy at Grambling and was seeking an experience that was a bit more familiar to me in terms of the city life I was accustomed to. At the onset of the year I applied to Howard University, almost on a whim. I was convinced that I had neither the GPA, or financial means to attend the esteemed school. I also applied to work as part of the Walt Disney World college program for that summer-again...on a whim. I was shocked to learn that I'd been accepted to HU as well as into the college work program at Disney World. Looking back, I realize that God/The Universe clearly had plans that were much larger than I could see at the time.
Fast forward to summer of that fateful year and I'd left Grambling State behind, in order to return home to Wisconsin for a couple of weeks before I was to start my job at Disney. As I reflect back on this turn of events, I realize that many of my decisions were made in an extremely negative and fear based headspace. I now understand how and why everything had to unfold the way that it did but at the time, I was anything but clear about what the hell was happening. Initially when I got accepted into the college program to work at Disney World, I was elated because I thought it would be a fun filled experience where I would reap the benefits of working at the 'happiest place on earth'.
I liken my actual experience living in communal housing with other college students/employees to that of something like "The Real World" on MTV. We were all randomly placed together and required to live and work at the various restaurants & attractions that made up the theme park.
I make note of this time and experience mainly because it was there in Florida where I something I had suppressed for years had finally caught up with me. I had buried pretty much all my thoughts surrounding my sexuality and attraction toward other men for years as a youth & adolescent. Over the course of that summer in the apartment where I lived (with at least 5 other guys), I had an experience that involved someone being 'hit on', someone being 'outed', ostracized, and eventually forced to move out of the unit because of their sexuality. Little did I know that this experience would begin an ongoing turn of events that would affect me & my feelings surrounding my sexuality. By that summer's end, I was headed to Washington, DC to begin my first semester at Howard as a transfer student from Grambling. Thanks to the hospitality of a family friend of a friend, I was welcomed into the home of a married couple who lived just outside of DC in Alexandria, Virginia, while I awaited the date when I could move into my dorm at Howard. The first day I arrived in the area, I stayed the night at a hotel in Crystal City. As a means of thanking the couple who was opening their home to me for a week, I walked downstairs into a B. Dalton Bookstore in the Crystal City mall in search of a book by Iyanla Vanzant that my friend's sister had suggested I purchase as gift to thank my gracious hosts. To my dismay, the book I was looking for wasn't in stock but as I headed out of the store, my eyes caught the glance of a bookcover with two black men embraced, with a woman staring at the two of them from off in the distance. I walked back to the counter where the book was on display, carefully picked it up and examined it. Given all that I'd experienced over the summer regarding homosexuality and it's insistent presence in my universe, I quickly grabbed the book & purchased it. It was on that fateful day when I found my way into the world of Mr. E. Lynn Harris.
The book I purchased that day was actually his second novel, "Just As I Am". I vaguely recall the saleswoman behind the counter mentioning that the two books were part of a series and that the other book, "Invisible Life" preceded the one I'd noticed and grabbed first. Still, I went ahead with my purchase of "Just As I Am". Something about the image on the cover of that book, with the two men embracing each other had my attention and there wasn't much that anyone could say at that point to pry it from my hands. After I'd bought the book, I quickly took it upstairs to my hotel room and peeled it open, to discover the lives the protagonist, Raymond Tyler, as well as his best friend Kyle, his 'ex' girlfriend Nicole, and many other fascinating characters. As I made the transition to my guest home for the next week, I quickly finished "Just As I Am" only to return (to backtrack) & purchase the first novel, "Invisible Life". Within less than one week, I'd read both of E. Lynn's books and not only was I entertained, but things about my life took on new meaning and made sense FINALLY. EVERYTHING that had happened over the summer (as well as earlier that year), was placed into a kind of perspective that helped usher me through an extremely difficult time in my life that included a move, a new school, a new city, low self esteem, mild depression, issues about my weight, sexuality and a whole host of issues. In hindsight, I was some kind of a mess. Reading E. Lynn's tales about the lives of these black men who loved other black men, had jobs, social lives (& just as many issues as I did back then) helped make an extremely difficult time in my life just a little bit easier simply because I knew that I wasn't the 'only' one going through 'some things'. It was one of many ways I realized that God was beginning to speak to me, in order to remind of my divine connection to spirit.
That is how I was blessed with the gift of E. Lynn's amazing work for the first time, and over the course of the next nine years I continued to read his work while making sense of my own life as a black gay man. Shortly after discovering his work & after a rather concentrated hunt, I also came across the work of James Earl Hardy. Both of these men painted vivid pictures that were dripping with what I realize now I needed most: POSSIBILITY. My life in DC continued as I began my time at Howard University and eventually came to grips with my sexuality. There is much more I could say here about all that has happened since then that has led me to now, but ALL OF THAT...as I reflect for purposes of writing this piece in memory of the late, great, beloved E. Lynn Harris would be better suited for what I'm sure will in time become my own personal memoir.
In my lifetime, I've been blessed with 3 opportunities to meet E. Lynn Harris. While attending Howard (sometime between 1997 & 1998), I had my first chance to meet E. Lynn Harris during one of his visits to the university as part of a book tour. Honestly, so much has happened since then in my own life that I remember very little about our first meeting. One thing I can remember is that I revealed to him how much of an inspiration he was to me and how I'd thanked GOD for him and his writing because it had 'saved my life'. He was humble, warm, and gracious as he thanked me for sharing such personal feelings with him. My second meeting with him was roughly 2-3 years later when he participated in a workshop/book signing at the Innervisions Worldwide Spiritual Life Maintenance Center in Silver Spring, MD (which was founded by Iyanla Vanzant). By that time I'd graduated from HU, and was out in the world living my life as a young, eager, passionate actor & performer who was just beginning to understand and appreciate his relationship to and with God. My spiritual quest/journey was what had led me to Innervisions in 1999, after having read countless Iyanla Vanzant books, which also inspired me and helped me to reconcile with, and accept ALL of who I was becoming...sexuality and all. During this second meeting I do recall being led to get up and speak publicly (during the Q&A with the audience between Iyanla & E. Lynn) about my experience. Although I don't remember EXACTLY what I said, I know what I courageously shared was that I felt that it was God's magnificence and UNCONDITIONAL LOVE that had led me to both of these beautiful individuals and their sacred works. Both 'Mama Iyanla' (as I refer to her, since Innervisions quickly became my spiritual home) & E. Lynn sat gracefully, and listened to me share my testimony about how they both had touched my life. My final meeting with E. Lynn was in the summer of 2008, shortly after the release of his novel, "Just Too Good To Be True" (pictured below-left).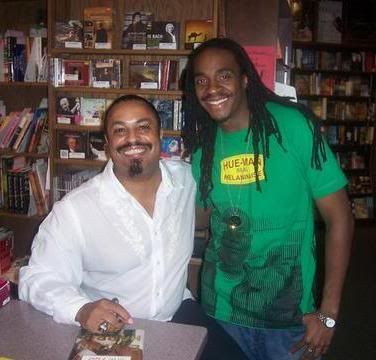 Even though each time I'd met him previously, I had pretty much similar things to say, this time around my brief time speaking with him resulted in my mentioning that I'd tested positive for HIV in late 2004 & subsequently founded Brave Soul Collective in 2006. I'd mentioned all of this to him in hopes of having the chance to interview him & have him appear as a Brave Soul featured artist. Due to his rigorous schedule at the time however, that feature never happened. In rememberance of his illustrious career as a writer and the way he touched so many of our lives with his faith, talent, courage and wit, I decided to write this submission TODAY, one year to the day that he made his transition from the human to the spiritual realm.
There is much more that I could say about E. Lynn Harris and his work. No amount of words however can express how much of an imprint his work has left on so many of us. Thus, I decided the most significant and loving way I could pay homage to E. Lynn was to share my own personal testimony about how God used him to touch and affect my life as a black gay man and as an artist.
I'm honored to also present testimonials from two additional people whose lives E. Lynn & his work inspired. Those are featured below.
It's up to those left behind who are still here on the physical plane to exhibit the kind of courage, honesty, faith, and LOVE that E. Lynn Harris managed to magically combine, in order to create such a lasting legacy. Brave Soul Collective salutes one of our many 'guardian angels', Mr. E. Lynn Harris.
_______________________________________________________________________________
Invisible No More
written by Kendal Nathan Brown
minister, community activist, and writer
City of Refuge Official Website
As a black gay man, I have had many angels along this journey toward self-acceptance. One such angel was E. Lynn Harris, who left this life one year ago. Prior to the release of Harris' first book, Invisible Life, I can recall foraging for anything in print that was remotely black and gay. I grew up in rural southern Virginia, in a place were there were no gay enclaves such as New York's Chelsea neighborhood or San Francisco's Castro District. The only images of black gay individuals readily available to me were those of the many closeted persons that I knew scattered throughout churches and community choirs. More often than not, our interactions were cloaked in secrecy, shame, and hiding.
In spite of everything that the dominant culture was telling me, I knew that for me there had to be a more authentic and honest path. In high school, I would spend my lunch hour in the library reading the writings of James Baldwin, Langston Hughes and others hoping to find a kindred and familiar soul on written pages. During my early undergraduate years, I scanned the shelves of the local gay bookstore [not that bookstore] looking for something that offered even a glimpse of my own experience as a black gay boy raised in a southern and devout religious household.
With the release of Invisible Life, my worldview shifted and for the first time, I saw my own story on printed pages in a way that was both real and accessible. As I read Invisible Life, I was overtaken by a feeling of relief and comfort that it and I was okay. In a way that I had never experienced before, something in me breathed. It was as if I had found someone who spoke my language while traveling in a far and distant land. Harris fleshed out the nuances of being black and gay and provided voice to the reality that being same-gender loving was about more than just sex. It was & is about being human---loving, searching, hurting, wrestling, and growing, often on life's own terms.
The lives of Raymond, Kelvin, Kyle, and Basil provided for me and countless others safe space to envision our own lives and new realities - and also the lives we did not want for ourselves. Harris' writing gave us a tool for conversation about the complexities and fluidity our romantic and sexual lives---complexities that though rarely discussed openly, have always existed in our communities.
Though I am at a very different place in my life today, I still remember that coming out to myself and to others was no small thing. It is because of the courage of writers such as E. Lynn Harris that I have been able to move from a place of painful struggle to a place of fully owning/seeking to own the gift of being a black same-gender loving man.
We owe a debt of gratitude to E. Lynn for his gift of prose - for providing space for all of us, particularly African-American LGBT persons to imagine, to be, and to become. Our world is different because of his invaluable gift. May we honor his contributions to us by continuing to make our lives, our stories, our love, visible so that others may find courage to live fully and freely in the world.
Thank you E. Lynn.
______________________________________________________________________________
My E. Lynn Tribute
written by Stanley Bennett Clay
I first met Lynn in the early nineties, just as his well-deserved star began illuminating the literary horizon, thanks to Doubleday's publication of his self-published phenom Invisible Life. At the time I was publisher and editor-in-chief of SBC Magazine, the largest national monthly for the Black LGBT community. I knew immediately that this was a groundbreaking artist who absolutely had to be celebrated in the pages of my magazine. But upon meeting Lynn for our first interview, I not only found a visionary, but a new friend, whose southern charm, gentle ways and generous spirit made him more than just an editorial feature subject.
As I recall the many, many phone calls and lunches that we shared over the years, the laughter, the gossip, the ups and downs of our love lives, our genuine appreciation of each other, and our partings that always ended with an "I love you, man/ I love you too," I will always hear in my head and in my heart the gentle ring of his smiling voice, rich with the warmth of his southern-gentleman way.

Though the pain of his loss is a void I fear cannot be filled, I take solace in the sweet memories that we shared; two black gay men that truly knew love, knew life, new friendship and shared dreams of a community that could be changed with the stroke of a pen.

I love you, man. I miss you too.
-Stanley Bennett Clay
For more on Stanley Bennett Clay, please visit:
Stanley Bennett Clay on facebook
To view Stanley Bennett Clay's Brave Soul Artist feature & learn more about his literary tribute to E. Lynn Harris, "Visible Lives" featuring works by himself as well as Terrance Dean & James Earl Hardy, please visit:
Stanley Bennett Clay Brave Soul Artist Feature